The best ski resorts as seen from the UK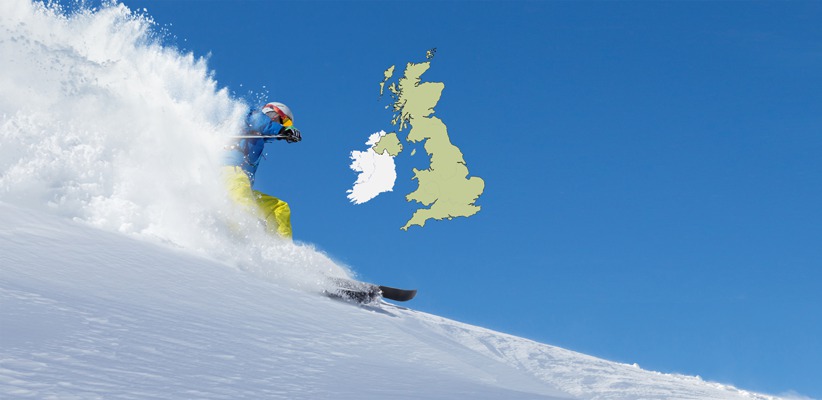 British skiers have a wide choice of ski resorts around the world. A good reputation can help a ski resort grow or defend its market shares. LHM's proprietary survey establishes the ranking of the best ski resorts in the world as seen from the UK.
Survey : the best ski resorts from the British perspective
Using a survey (1) conducted in October 2017 among a representative sample of British winter sports participants, our objective was to create a ranking of the best ski resorts, with 'reputation' as metric. (An explanation of the method used and our definition of "reputation" are provided below.) The resulting ranking of ski resorts is shown below.
TOP 3
The 3 ski resorts worldwide with the best reputations in the view of the British public are: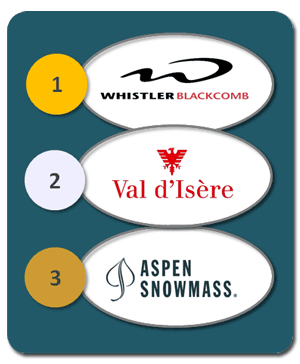 TOP 32
(32, with some resorts scoring equally)
Noteworthy…
In the next batch, after the top 32, we can find : Sauze d'Oulx, Lake Louise, Ischgl, Sestrière, Cervinia, Jackson Hole, Breckenridge, Crans Montana, Mayrhofen, Engelberg, Calgary, Mont Tremblant, Are, Grindelwald, Serre Chevalier, Heavenly, Andermatt, Obergurgl, Grandvalira, Flaine, Winter Park, Schladming, Zell am See, Val Gardena.
Women were over-represented in responses quoting Méribel, Chamonix, Courchevel, St. Anton and Zermatt.
Men aged between 45 and 54 years were more likely to answer with the top 3 of Whistler, Val d'Isère or Aspen.
Men aged 55 and over were more likely to cite Méribel, Zermatt, St. Moritz, Kitzbühel, St. Anton or Lech/Zürs in their response.
Young people aged 18 to 34 years gave Val Thorens as their top answer more often.
Good skiers were more likely to mention Val d'Isère, St. Anton, Whistler, Aspen, The 3 Valleys, Zermatt, Chamonix, St. Moritz, Verbier, Tignes, Vail and Ischgl.
Composite brands: with the exception of a few spelling corrections, we have reported the results as they were quoted in response to our open-ended question. For example, no respondent wrote Whistler Blackcomb, Aspen Snowmass, Chamonix Mont-Blanc or St. Anton am Arlberg
Composite destinations: it is for similar reasons that we chose not to add up responses for Davos and Klosters, for St. Anton and Lech or for Morzine and Avoriaz. These 'composite destinations' are often marketed together but they were never mentioned together by respondents.
The term 'ski resort' is sometimes associated with the concept of ski area or region rather than a town or village. This is why the 3 Valleys are also in the ranking. Other names of ski areas or regions such as Kronplatz, Espace Killy, Via Lattea and a few others were also mentioned but much less frequently.
Reputation and market share …
Calculating the relationship between "reputation share" and actual market share revealed a very strong aspiration for the North American ski resorts, with their proportion of mentions being 3 to 4 times greater than their actual market share.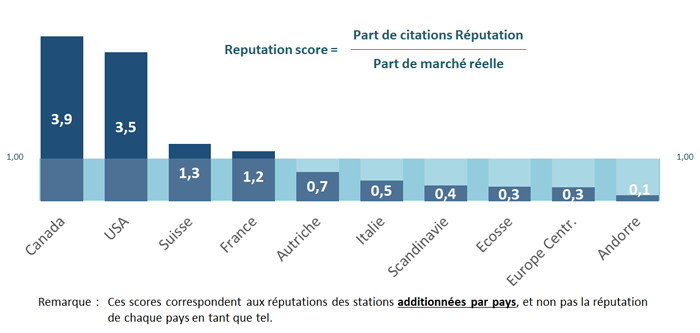 Example: the number of times Canadian ski resorts were mentioned in terms of their reputation is 3.9 times greater than the actual market share (share on the British market) of Canadian ski resorts.
Why create this ranking of best ski resorts?
By combining image, awareness, credibility and trust, reputation is a powerful indicator for measuring a brand's growth potential. To some degree, reputation is a reflection or an effect of recommendation scores such as NPS.
Reputation, a vector of trust and credibility.
Like the concept of brand image, reputation is built from all of the conceptions one has of something: a company, a brand or a person. But although at first glance there appears to be very little separating these two concepts, there is one important difference between them: whereas image concerns the beliefs that an individual has about something, reputation is the belief that the individual holds about the beliefs of others with respect to that thing (also known as meta-belief). In other words: what a person believes that other people think, without necessarily having consumed its products themself.
Reputation is therefore an indication of the extent to which the brand image is actually being communicated to the general public, based mainly on the credibility, trust and esteem that the brand evokes. To simplify, reputation can be regarded as an effect produced by the sum of recommendations and other signals given out about a brand by all of the individuals and organizations that have been in contact with that brand, either directly or indirectly.
That is why reputation is measured among the general public, whereas the mechanism of recommendation is measured mainly, but not exclusively, among the consumers of a brand or product.
So, although reputation and awareness are correlated, awareness is in itself not enough. A product or brand can be familiar without having a good reputation, because brand awareness in itself says little about the beliefs and opinions circulating about that product or brand.
Finally, let us not mix up reputation and quality. Interactions between these different concepts are strong but complex, and a weaker reputation in this context doesn't necessarily mean low quality.
(1) Survey method
Survey conditions :
Sample of 988 respondents representative of British residents aged between 18 and 70 years with recent experience of winter sports activity.
Conducted in early October 2017.
Sample representativeness was ensured by the quota method (age, gender, income, region).
The question about reputation was an open-ended question, with the respondent prompted to cite 3 ski resorts in the order of first to third place.
This Internet survey was conducted among a sample representative of the British winter sports market using a real-time selection process from a panel of consumers representative of the British population (taken from an access consumer panel; no customer or direct-marketing database and no social media source or newsletter subscriber database was used). The process used by Moving Minds (fka LHM Marketing) follows best practice in obtaining a neutral, non-biased snapshot of the market.
In addition, the structure of the results obtained was validated by cross analysis with economic data from a number of sources (visitor numbers, airport arrivals, and a variety of polls and surveys carried out by Moving Minds (fka LHM Marketing) and third parties in different destination countries). At the same time, the quality of this sample offers new insights into the structure and size of the British skiing market, consumer methods and attitudes to Brexit.
Moving Minds?
Moving Minds (fka LHM Marketing) is an independent market research company specializing in mountain tourism and leisure. We are currently based in Chambéry, France, but have international roots.
In October of 2016 we set out to obtain the most accurate picture possible of the British winter sports market, focusing in particular on its size, its structure and the behaviour of British skiers. To this end, we conducted two surveys, one in October 2016 and another in October 2017, which we supplemented with data from other sources. The results and ranking of ski resorts presented here are taken from this data.
For more information about the results, method used and survey conditions, contact :
William Fux
Moving Minds
T. +33 (0)9 62 34 19 30
M. +33 (0)6 17 29 84 47
contact@lhm-conseil.fr
More on :
The British ski holiday market
Brexit & the British ski holiday
On the same topic
29 July 2018
Many British travel operators are worried their businesses might get affected after Brexit is completed. LHM (now Moving Minds) was commissionned by SBIT to survey British travel businesses ...
29 January 2018
What is the size of the British ski market? How many go skiing each winter?
Next post
29 January 2018
What is the size of the British ski market? How many go skiing each winter?
More ...